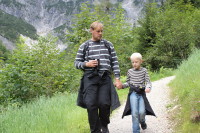 Über mich
Being danish means being used to farmland and the sea. Mountains and rocks are of another world, far away. The Alps is a place of fantastic scenery for a low-lander like me. When I stumpled over this website in 2007, I was so impressed with the skills of the photographers and their ability to show big scenery.

Besides flying over it, I have so far only visited the alps once, in august 2011, in Leogang, Austria. I hope many more visits will come in the future.

Besides the scenery, I am hooked on hiking, birds, flowers and butterflies. Oh, and photographing! My photo-philosophy is simply to make the most real-life photos, with the smallest amount of tricks and fuzz, as possible.

I rate mostly 4* or nothing, but from time to time when going through the archives, I give 1* for the following:

Non-panoramas (1 shot pictures), very blurred and unsharp quality, obvious problems with the horizon, bad transitions, and sloppy quality in spite of advice and helpful comments.

Meine Ausrüstung
Canon 550d, 28-80 mm, 300 mm, 1,4 x converter, Hugin, GIMP and IrfanView.
Kontakt: janlindgaardrasmussen[at]gmail(dot)com